Galloping to GB Vaulting Success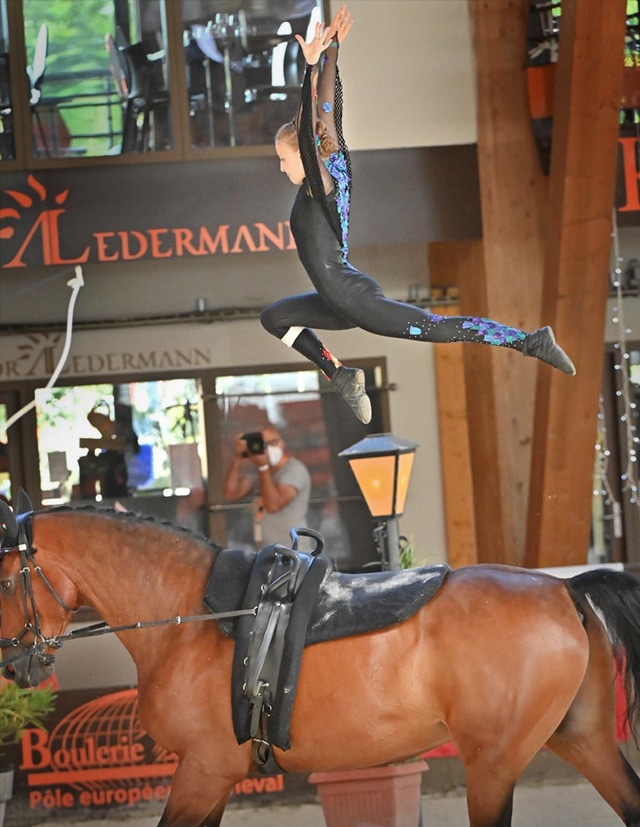 Galloping to GB Vaulting Success
We chatted with Urssie, a Sixth Form pupil, on her call up to represent Great Britain at the Junior Vaulting World Championships 2021. Since this interview in 2021, Urssie has continued her vaulting success competing for England in the World Vaulting Championships in 2022 and winning the England Individuals Championship!
Q: When did you first begin horse riding and how did that lead into vaulting?
I started riding before I could walk and have spent my life around horses. Both of my parents are riders. My dad event rides for Australia and we live on a yard, so riding has always played a big part in my life. I started doing pony club when I was 10 which naturally progressed into doing pony club championships and small competitions. My passion for vaulting developed when my family were out in Normandy supporting my Dad in the World Equestrian Games. Whilst there, I stumbled across vaulting. Almost immediately, I turned to my Mum and said 'I want to try this.'
Luckily my Mum knew a trainer who lived nearby so I started going for vaulting lessons once or twice a week. I didn't have any formal gymnastics experience at the time so it took a lot of work to learn the correct movements and get to a good standard.
I started properly doing low level vaulting at the Unicorn Vaulting Club in Stow on the Wold. Amazingly after two years, I then got invited to join the English vaulting squad for individual vaulting in 2019, moving to EVS Equine to train to a higher level of vaulting.
Q: How long does it take for you to prepare for a competition?
Although we train all year round, our competing seasons are usually in February and October. Over the winter, we focus on learning new moves and developing our routines. We put aside two weeks to develop a base then move onto our ABC routine, with A being the hardest and the C routine being the most basic. Once we formulated a routine to compete with, you then add more difficulty and more expression to get a better base score. To perfect a routine it takes around 12 months of hard work. The top score you can get is a 10, which I don't think I have ever seen someone achieve! The horse is also scored out of 10 and contributes to 25% of the overall score.
In our team we have a 27, 18, 16, and 10 year old. We do 3 star senior team, which is the highest of the international levels that you can compete in. I am currently a 2 star junior individual but I hope to one day soon make it up to 3.
Q: do you enjoy competing?
I love competing internationally. At my most recent two day competition I came second on both days, achieving personal bests and performing four solid routines. I got to ride on my youngest horse, an Irish gold called Richie. He's only been a vaulting horse for one year but he is doing so well. We went into the competition expecting to come fourth or fifth so was very excited to have come within the top three.
Following that competition, I am very pleased to have recently been one of the three vaulters selected to represent Team GB at the Junior Vaulting World Championships in Le Mans at the end of July!
Back to all stories