Taking Centre Stage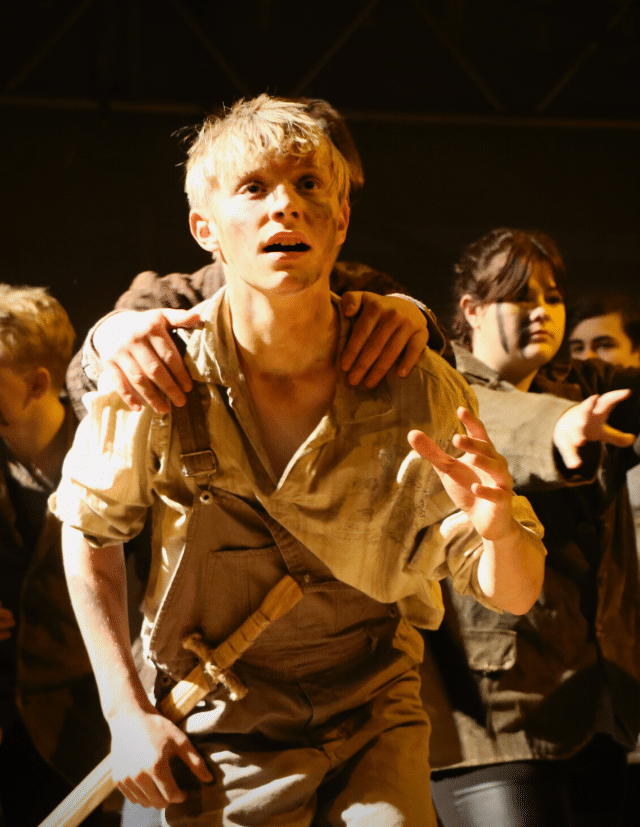 Taking Centre Stage
Following his key part in the whole school production, Joe sat down to tell us all about his experience of drama at Bloxham.
Q: What ignited your passion for drama?
I think my passion for drama started when I was in Year Three at primary school. I got picked for a part in "Ali Baba and the Bongo Bandits" where I was a marketplace salesman. It was quite a funny role to play. I had to go around selling scarfs to people in the primary school which was fun. I got up there on stage and everyone was laughing at me and my jokes. The flair of  performing around on stage was cool and I found myself really enjoying it.
Q: you are a drama scholar at bloxham. what piece did you choose for your scholarship examination?
I picked an extract from a play called "Fences". In the scene, I played a young character called Cory who confronts his abusive dad, Troy, about all the terrible things he has done to him and his mum. It was a very heartfelt and emotive piece and I think that's an area I can do quite well. I did it in front of Mr Brassington who was an incredibly supportive teacher.
Q: Last year, you played a key role in the whole school production of "the Mabinogion". Can you tell me about your experience?
"The Mabinogion" was a bit of a confusing one! It was Welsh mythology, all about King Arthur, dragons and giants. There was quite a lot of complicated Welsh names which I struggled to learn. That being said, it was a great play. Mr. Hornsby did an amazing job with the props, stage design and movement. The choreography of the fight scenes was really good. I played Culhwch who was quite a romantic character, which was awkward at times, but it was also quite fun. He was born in a pigsty but rose to fame after completing some impossible tasks for the hand of a giant's daughter.
It was an ensemble piece, so everyone came together and there was a true sense of unity in that. I've built so many relationships with other pupils throughout the production (even people in the Sixth Form!). It's brought everyone together who was in the cast. The play was great but it's the relationships that have made the experience for me.
Q: Have you undertaken any Lamda exams at school?
I've done two LAMDA examinations, both of which were pieces with other people rather than individual pieces. One of them was an extract from a play about a military conflict, with veterans reminiscing on their experiences. It was very touching. My first one was in First Form, so Drama was a new thing for a lot of people. I became strong friends with everyone in my group which was really nice. It was quite a long process due to lockdown periods but when we were finally able to perform, we smashed it with a Distinction.
The second LAMDA performance was one that we wrote ourselves. Inspired somewhat by "Lord of the Flies", we wrote a piece about teenagers crashing into a jungle. It took a couple of drafts to get it perfect but by the end, I think we were all very happy with the final result. The ability to say our own lines, do our own thing and have the freedom to devise our own production was an aspect that we all enjoyed. It came out really well with another Distinction. We then got to perform it in front of the whole school in a drama showcase event, which was cool. The group LAMDA exams that we cover in lessons have been a fantastic way to let people fall in love with Drama for the first time and I know it has led people to start thinking about individual LAMDA qualifications.
Q: the whole school has recently enjoyed the house drama competition. What does it mean to you to be part of a Boarding House?
I think boarding houses are a lot of fun. Though you're with your friends a lot of the time, the best time is when the whole house is together. There are a lot of socials and activities. You start to build relationships with people when you see them day in day out. It's quite an interactive place to be. It's just tremendous – a lot of fun. You also can have a laugh not only with your friends but with your teachers. Everyone in the house is very close so you can chat with anyone and everyone about anything.
Q: What has been the highlight of your time at Bloxham so far?
There have been a lot of highlights. Although I've only been at Bloxham for two-and-a-bit years, joining in Exham, we've already done so much fun stuff and all of it has been so good. I think, even if I thought about it for a while, I couldn't pinpoint one specific highlight!
Back to all stories