Tuneful Experience with Bloxham Music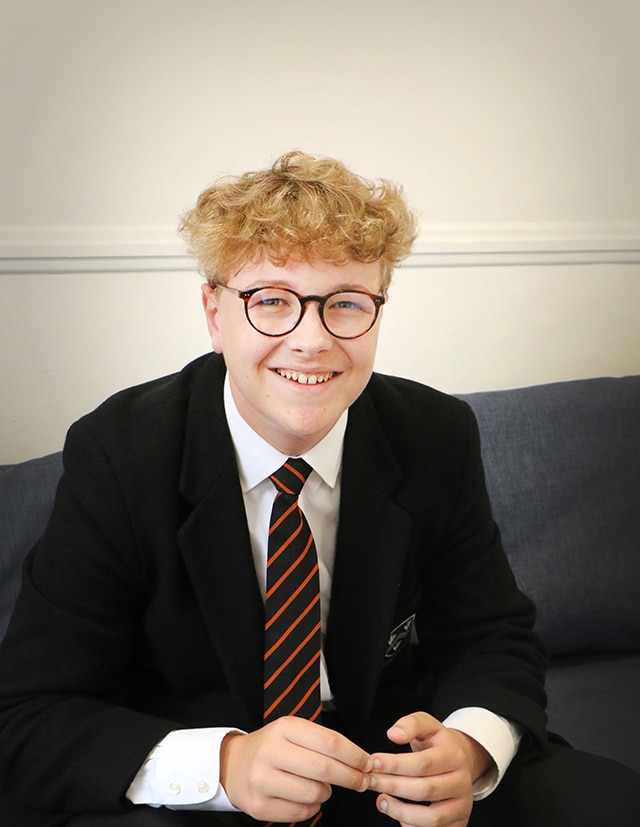 Tuneful Experience with Bloxham Music
Sam spoke to us about his musical talent, his time in Bloxham's Day House Merton, and his future career in law.
Q: When did your passion for music begin?
I've always enjoyed playing and listening to music. I started piano lessons when I first joined Beachborough. I did that for a year and started flute when I was seven. I've always enjoyed listening to and enjoyed finding new music to play. I think maybe it stems from musical toys as a child. Both of my parents enjoy music, my Grandad was a singer, and my Aunt is an opera singer.
Q: Is success in Music down to talent or hard work?
It's a mixture. Even if you're talented and you don't put the time or the work in, you won't progress. I love playing the flute! The better you get at it the wider range of music you get to cover. Once you progress past grade 5, you can essentially play by ear.
Q: What grade are you currently at? what does it take to be graded?
Last Christmas, I achieved a Diploma for the London College of Music. The next stage is ATCL, which is another diploma I will go for this Christmas.
When you're at the lower grades, i.e. 1-6, you get a short syllabus of about 4 pieces. From grade 7 onwards, you get a much wider choice in the syllabus. The level I'm at now, it's about deciding on a varied and contrasting program.
I get to play pieces that sound good, that I want to play, and that I enjoy listening to. My teacher Sally and I take a look at the syllabus and make a selection – she is experienced in taking students through the diploma certificates.
I take those pieces to competitions to perform and practice further. A week or two before the grade I'll do a recital at the school. I've never felt nervous about performing to an audience. It's a passion of mine. I play music to relax – I have used it a lot as therapy during exams. It's enjoyable being proud of a piece you've performed in front of a group of people. I use that pressure to spur me on.
Q: What have been some of your most memorable performances during your time at Bloxham?
Three spring to mind. My first gala concert in Fourth Form, playing goldfinch Conchita with the string orchestra. That was great fun, they were good musicians and it was very entertaining.
I also enjoyed playing at St. Mary's in Banbury. Playing in a church with a lot of reverb is very nice to let the notes sing.
The third definitely has to be singing in the Vatican and the Pantheon in 2019. It was a surreal experience with these colossal buildings with lots of history as a backdrop for a performance from a little school in Oxfordshire. It was a fantastic opportunity, a really special occasion.
Q: What does it mean to be a positive role model to younger students in the Merton Day House?
I always try to be honest and respectful. It's really important to treat everyone with the same level of respect, from Mr Sanderson down to the new Third Form. It helps to be friendly rather than lauding over them! I hope that anyone who has a worry or a query feels that they can come to me for a chat. I always aim to be a good listening ear.
A lot of my highlights at Bloxham have come from my time in Merton. Being on the first rugby team to ever win a rugby match for Merton was very special. I wasn't personally very involved but still a brilliant experience. It's great to see Merton grow and expand and have a real chance in the competition.
I've really enjoyed the various House days out and in. Even though we're not an overnight boarding house, there's still a community atmosphere. It feels like a family.
Q: What are your hopes for the future ?
I'm aiming to go to Oxbridge to study Law. I was talking to Mrs Exelby about applications recently, discussing the most appropriate A Level choices for Law, and the possibility of going to Law School in America for Postgrad. I'm taking English, Psychology, and Music at A Level and am doing a law focused EPQ.
In September, I did a virtual open day for American universities or politics schools. I also regularly follow up with the Harvard UK transfer.
Wherever I chose to study and whatever comes next, I still want to keep music as a much loved hobby.
Back to all stories