Dominating the Dance Floor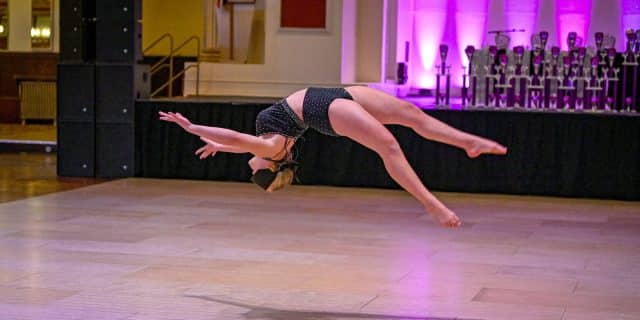 Dominating the Dance Floor
We sat down for a chat with Caitlin, a Lower Sixth pupil who recently qualified for the national finals in a dance competition. She performed two solos, two duets and in three groups, and every single one of her dances made it through to the final, which will be taking place in October. She also came first in her heat in all but one of her solos and duets.
Could you tell me a bit more about the style of dance you do?
I do a variety of different styles of dance. My favourites are ballet and acro (acrobatic), but I also do commercial, which is similar to street dance, as well as jazz and tap. I train every Monday, Tuesday, Wednesday and Thursday. Thursdays are just for competition practices whereas Mondays, Tuesdays and Wednesdays are focused on exam work, so ballet exams and that kind of thing.
How long have you been dancing? What first ignited your passion for dance?
I did baby ballet from when I was three, but I started competing when I was 10. I used to do gymnastics but then I switched to acro which I much prefer. I've always loved dance – I don't remember not loving it!
How does dancing make you feel and how does it enrich your life?
I feel like it's a great stress reliever, especially going into exams. It's nice to have time away and to just let everything go and feel in sync with the music. It's something I love so, for me, it's fun. It's such a great feeling performing with your team and having it go almost perfectly. It just feels so good to have achieved that. It's hard to say whether I prefer dancing in a team or alone! I like doing both – there's a certain passion you feel dancing on your own and, being a performer, it feels incredible to entertain everyone just by yourself. Performing as a group is a completely different feeling. It's amazing to be part of a team where everyone around you is feeling the same way as you do.
How has Bloxham supported you in your dance commitments?
I often have to leave early, like on a Thursday I leave at 4, and Bloxham has been very helpful in terms of allowing me to have the time off, especially on afternoons or Saturdays when I'm competing. Also, my Housemistress Miss Single is very supportive of me and often checks in to see how I'm doing and make sure I'm not too tired! She has also helped me make sure my work is done and that I'm up to date with everything.
What would you like to do when you leave Bloxham and how do you think dance will continue to feature in your life?
At the end of this year, I'll still carry on with dance but I'll stop competing because I want to focus on my A Levels. I want to go and study veterinary medicine so I need to do a lot of work, but dance will always be something I want to do. To get time away from sitting behind a desk is just such a good feeling. It will always feature in my life but maybe not as prominently as it does now.
Back to all stories