As the weather starts to turn autumnal, it felt like the perfect time to look back and share just a few of the fantastic sporting successes our pupils and members of staff experienced over the summer.
Pupils
Abigail: Exham gymnast Abi has had a fantastic summer, going from strength to strength in her most recent competitions. Abi was thrilled to be selected to compete in the Northamptonshire County Championships and we're delighted to report that she won, becoming the Zinc County Champion in her age category. Abi has now qualified to represent Northamptonshire in the East Midlands County Team competition in November. Good luck Abi!
Jenna: Upper Sixth pupil Jenna has been playing netball since the age of 7 and has recently been chosen to play for the Central Warriors in the England Netball U19 National Performance League. This League is based around an ethos of intense competition and discipline to bring out the very best in the players who are involved. Over the summer, Jenna took part in a four-day tournament at Nottingham University from which she took home a silver medal. Her favourite part of the competition was staying at the university accommodation with her team, and finishing as the runners up, beating teams like Manchester Thunder and London Pulse along the way. Jenna has just been relselected for the upcoming season and her goal is to finish with a gold medal next time!
Luca: Third Former Luca has been training hard for the Gracia Barra Rugby Brazilian Jiu Jitsu team. Earlier this year, he earned a gold medal in the regional championships, a silver in the English Open, and a silver in the British Open, qualifying for the Junior European Championships which took place recently in Wolverhampton. He won his first match on points and his second one with a submission earning himself first place in the white belt, teenage category. Well done, Luca!
Equestrian: We have had such a deluge of equestrian successes over the summer that it was impossible to choose just one on which to focus! Having qualified for the SEG Championships at the end of September following her first run at 100cms at Broadway, Josie B has also qualified for the BE Regional Youth 90cm Championships at Chillington. Alice B was first in her section at the Pony Club Novice Dressage Championships and third in the ride off.
Charlotte F-S was a member of the winning Pony Club team in the Chairman's Cup class (105cms) at the Pony Club championships, and also won the overall Horsemanship Award. In addition, she was a member of the winning Pony Club Team at the Le Mieux Pony Club Team Show Jumping championships at Burghley. Raffaella C has staged a great comeback with several show jumping placings over the summer and a win at 100cms in a Cotswold Cup Qualifier at the beginning of the summer.
Our team of Jemima L, Bridget H and Hattie B travelled to Hickstead for an NSEA show jumping qualifier and have qualified for the NSEA Championships in October at 70-75cms and 80-85cms, with Bridget winning the 80-85cm class and also qualifying as an individual.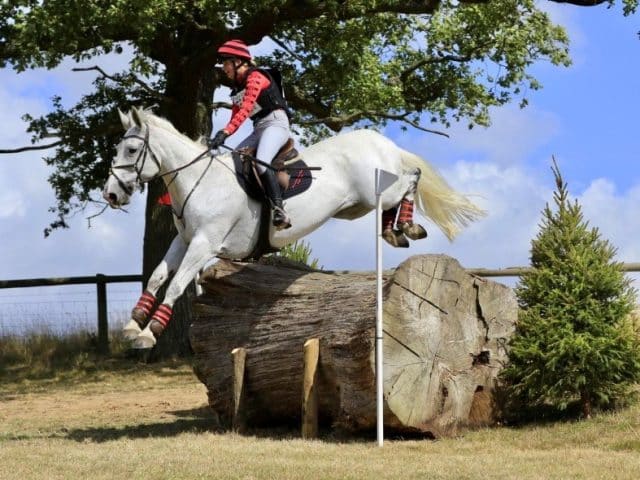 Staff
Amanda Bowden: On top of working incredibly hard in her teaching career, Maths teacher Amanda Bowden also finds time to push herself in her other passion, rowing. Having started rowing when she was at Cambridge, Amanda recently re-discovered the joy of competing and has since gone from strength to strength, helping to grow her squad in Stratford-upon-Avon and placing out several competitive crews at Head Races this season, with the aim of competing at Henley Masters next summer. Together with her doubles partner, Suzie, Amanda has greatly increased the diversity of the squad to include not only competitive rowers working at the highest level of the sport, but also women who are there to pursue fitness goals or simply for the joy of moving through the water.
Over the summer, Amanda represented Great Britain at the European Masters Championships in Munich and is now European Masters Champion in the VIII. Although Amanda really enjoyed competing, she is quick to emphasise that this is very much the final step in a long dance: 'For me, I think if you get the journey right, then hopefully the result will come. It's the journey and the people you meet, the programme you plan, the reflection of the programme and how you adapt which is the far more interesting part. Munich itself was in some ways just a gift that came on top of that.' This is very much a lesson which she always tries to pass along to the pupils with whom she comes into contact: 'It's just really encouraging to see what you can achieve if you have a goal and plan out how you're going to get there and how you're going to be tested along the way – it's exactly what I teach my pupils.'
Amanda credits her success in part to the wonderful support she receives from her family and from her colleagues: 'I'm fortunate at Bloxham to have some great colleagues who also see fitness as vital to the teaching profession – you've got to stay fit and mentally on top of things as a teacher. I enjoy the company of other colleagues in the school gym – they inspire me too! I'm working full-time, not a full-time athlete unlike some of the women I row with. I have to fit it round work, so the support of my colleagues is really key.' Amanda's next goal is the 2024 World Championships in Berlin – good luck Amanda, we can't wait to hear how you get on!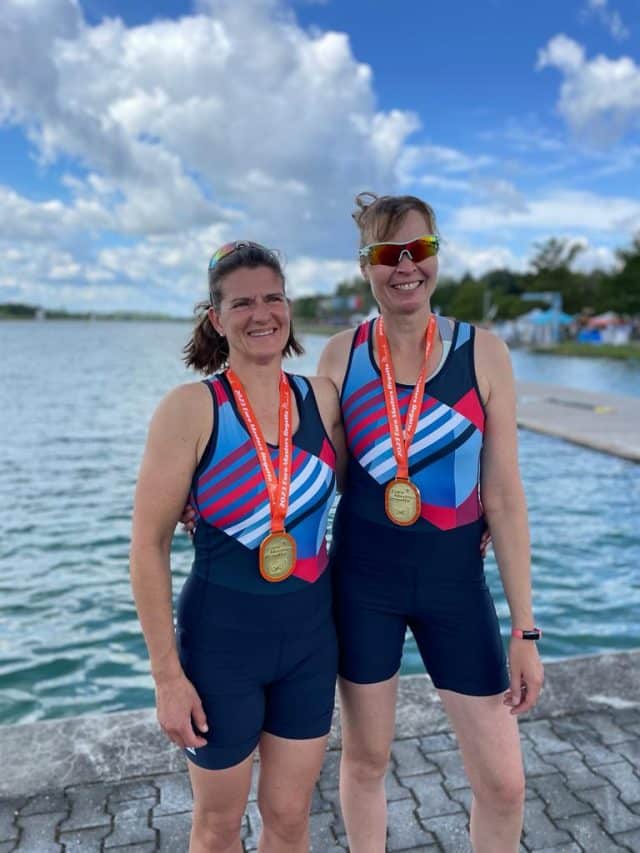 Lisa Manning: Having spent 15 years as a full-time netball coach, we were delighted to hear that over the summer Lisa Manning was selected to be part of the new Mavericks coaching team for U19s which she will be undertaking alongside her coaching commitments at Bloxham. The head coach is none other than netball legend Tamsin Greenway, an ex-England player and Sky sports presenter who won Super League titles with Wasps in her previous role. The other assistant coach, Jodie Gibson, is a current England player, current Super League player and a Commonwealth gold medal winner from 2019. Lisa is certainly in fantastic company and is thrilled about this wonderful opportunity.
So far, Lisa and the team have had trials and a few strategy meetings, and training starts in October with matches from December onwards. Lisa is particularly excited about having the chance to work with Tamsin: 'It's very exciting! She comes with a huge pedigree of coaching knowledge and it's going to be really fun. I'll learn a lot from her that I can bring back to Bloxham.' We can't wait to see what new things Lisa learns as part of this team which she can bring back and impart to our girls. Good luck Lisa!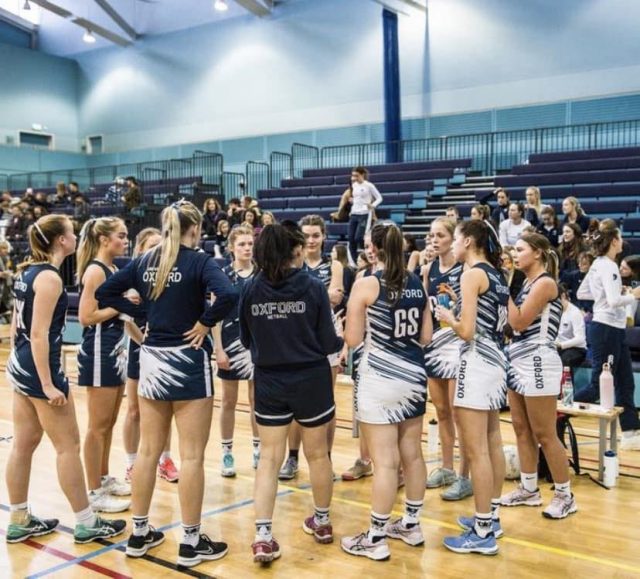 Old Bloxhamists
Tom Bird (Eg 13-20): Tom was the youngest competitor at the Burghley Horse Trials and delivered a most fantastic performance making his dream a reality by recording his first five-star completion on a horse which he produced from the very start of his career, Rebel Rhyme. Aged just 21, Tom also came second this year in the U25 national championship at Braham.
'I have always grown up around horses and started competing for Heythrop Pony Club at 8. When I turned 12 I immediately registered with British Eventing so I could event properly,' comments Tom. 'I was very lucky as Bloxham were always very accommodating of my eventing. The School helped to teach me the resilience and perseverance necessary to set up your own business and helped me to communicate effectively and in a positive manner.'
The future is bright and exciting for Tom as he hopes that Rebel Rhyme will go on to Badminton in May 2024 and that his other top horse, Cowling Hot Gossip, will head to Burley. He is also looking to expand his string of horses and is looking for more owners to join him and enjoy the journey. Tom also shared, 'I hope to make my British Senior Team debut at some point next year on a Nations Cup team which would give me lots of good experience and be a very exciting step in my career.'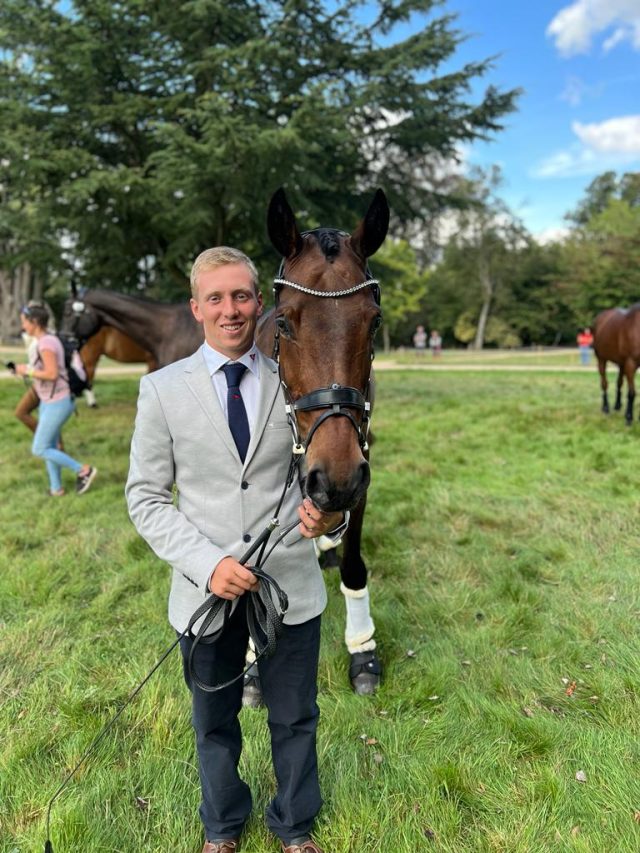 Kyle White (Wn 07-14): This summer saw great success on the hockey field for OB Kyle White as he competed in the European Hockey Championship representing Scotland in Dublin, while balancing his career in finance as a Finance Consultant for ICit Business Intelligence. From one match, Scottish Hockey reported that Kyle scored a tremendous goal: 'White took a good touch at the top of the D and unleashed a ferocious effort, on the reverse, into the top right corner of the net.'
The Scottish team won Bronze after beating Italy 4-1 in the play-offs.
Kyle commented: 'It is always an honour to play for Scotland and as it was the European Championship, it meant that both my parents were able to come and watch me which is always nice. Overall, this summer saw me earning 26 caps for Scotland. It's nice to have reached the milestone of over a quarter of a century (just!), after test matches against Wales in Cardiff and a number of physical and technical training camps before the Euros started. It was a very busy summer for me flying up and down between Glasgow and London, where I am based.
'I am now looking forward to the season ahead and playing for my club side, Teddington. In December, there will be a few physical training camps and then warm weather training camps in Nice, Pisa and Spain.'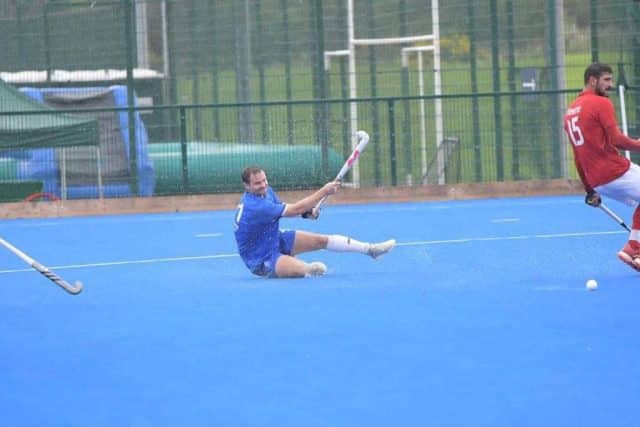 Sam Church (Cr 14-21): In August, Sam was chosen to umpire at his first international hockey tournament, the 4 Nations Junior International Tournament in Dusseldorf. Here, Sam explains his passion for umpiring and how he manages to balance this with entering the final year of his sports science degree at Leeds.
Sam's journey into umpiring started at school and he fondly remembers the then Head of Hockey giving him the opportunity to umpire while learning the rules in Exham House 7 a-side games. 'I felt thoroughly supported throughout my time at Bloxham and as I continued through school I was encouraged by the likes of Louis Yates, umpiring for him in more senior matches as I progressed.'
In 2019, Sam took his Level 1 umpiring course and gained experience through the South Counties Hockey Umpires Association and then two years later, gained his Level 2 course. 'I was then lucky to get my appointment to the Futures Cup, a highly prestigious junior tournament for those looking to progress into the junior England set-up. This really kickstarted my push to get my Lever 3 qualification and now I'm currently umpiring Division 1 which is the second division in England.
'My main highlight so far has definitely been my first international tournament in Germany. The amount of long hours in the gym physically prepping and endless hours sat in front of the laptop assessing matches definitely paid off when I got onto the pitch in Germany.'