Fighting to Make Sport More Accessible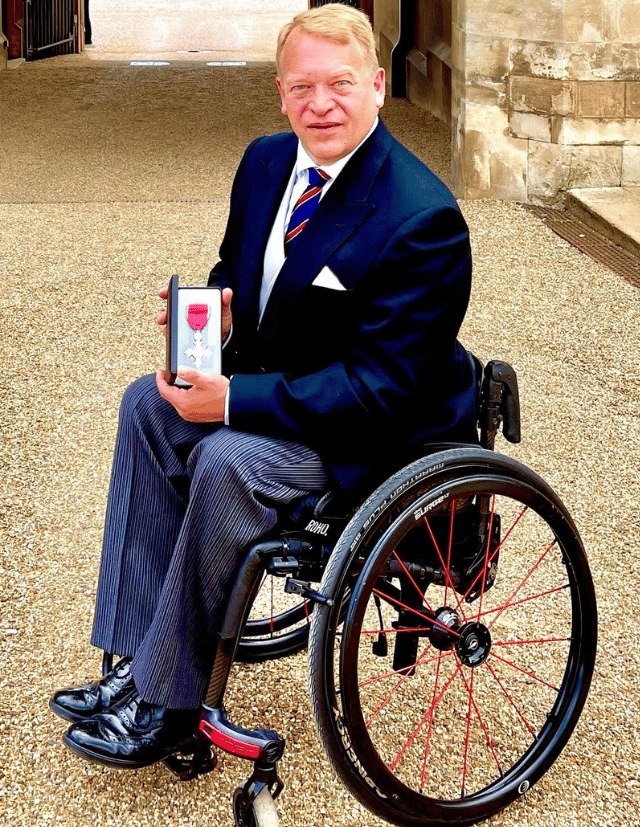 Fighting to Make Sport More Accessible
OB David Dent, who received an MBE for his services to veterans, students and people with disabilities, spoke to us about his achievements and his memories of his time at Bloxham. 
David was born in Jamaica. His father served with the Royal Scots and he grew up in the barracks near Edinburgh, or wherever his father was posted. He joined Bloxham aged 13 and was a typically 'busy and determined' student – racing from CCF to cookery, drama (including building drama sets) as well as every sport he could get involved with: Fives, hockey, rugby, gymnastics and swimming. In The Bloxhamist 1984, David was celebrated for his 'patience and resourcefulness' in helping the coaching teams.
After Bloxham, David trained as a nurse at the Royal Infirmary in Edinburgh and joined the Queen Alexandra's Royal Army Nursing Corps where he was a specialist in intensive care and military trauma. He worked on the front line in places including Bosnia and with the bomb squad in Northern Ireland. Injured in combat, David suffered blast traumatic brain and shrapnel injuries. He retired from the military in 2000 and forged a successful career in sales, marketing and business development and now works for Parexel International, a global clinical research organisation as a commercial leader across the UK, Europe and Israel.
Today, David is an advocate, ambassador and spokesperson for Help for Heroes, and a member of the Not Forgotten Association and Blesma, the Limbless Veteran Charity. In sport, David competes for Scotland and UK Athletics. He represented Team UK for the Warrior and is an Invictus Games team member and competed at the Highland Games 2019-present. He has been awarded an MBE for his services to veterans, students and people with disabilities in Scotland. He is married to Hayley and they have three children, Callum, Rachel and Becca.
What are your fondest memories of school days? 

 
The friends and the sport, especially hockey with Mike Tideswell and rugby.  
In what way did your time at Bloxham influence you? 

 
The school's ethical and community-based values have guided me throughout my life – in the military, in my professional life and through the charity work I do. Even the words of the School motto, 'The path of the just is like a shining light,' have remained with me. I have tried to be true to these words and let my example be just that to those around me. 
Which academic subject was most useful to your career? 

 
Economics with Col Stewart because I now mentor start-up businesses and MBA students and an interest in business, the macroeconomic environment and the business world stems from school. It is something I have returned to in the second half of my career.
I find it hugely rewarding to give back and in my role as an honorary professor at Stirling University I lecture and deliver classes on management, as well as giving talks on diversity and inclusion – two topics about which I am passionate. I am also entrepreneur in residence at Nottingham University and I have been recently appointed as a Companion for the Chartered Management Institute.
What advice would you give to anyone wanting to pursue a career in the forces? 

 
That hard work and mental toughness are important, as well as the concept of service leadership where those you lead are the mission and come first. That objectives are never achieved in a straight line with a perfect plan, so do not be frightened of making decisions, even wrong decisions, as you will service and learn from them. Indecisiveness is fatal in life and in business.
Be kind to yourself and others and do not live a reactive life, live one with purpose.  
Who has been an inspirational to you? 

 
Sporting heroes like Dame Tanni Grey Thompson and Dame Sarah Storey are incredible for what they have achieved; my family who always lead by example; but also, the people who volunteer as coaches and officials at grass roots level disability sport or fundraise and support the veterans' charities I support.  
What is your proudest achievement? 

 
Winning a world record representing my country at sport. As a member of the Wounded Highlanders, I competed in shot put at the Highland Games 2021 in Stirling and secured a world record with a throw of 23'6″.

One of my goals is to pave the way in making sport more accessible for disabled competitors. In fact, in general, society still has a long way to go in terms of becoming more accessible for the disabled community. It was only last year that the Highland Games opened its doors to disabled athletes for the first time thanks to a lot of campaigning work which I led. The result is that shot put is now accessible to disabled athletes as a competitive sport in over 20 countries around the world. 
You received your Investiture at Windsor Castle. How did you feel receiving your MBE?
I had to keep it a secret, even from my wife! It came as a complete surprise as you never think you deserve these things because there are so many people out there also doing great things. I am the third generation in my family to be awarded an MBE and feel incredibly humbled. My dad, John, was a Major with the Royal Scots and my grandad, George, saw service in WW2.
I have tried to do my bit to create a positive impact and bring about change. I always say, you cannot complain about the state of this world if you're not prepared to do something about it.
Back to all stories