Exham pupils have completed their Greenpower electric car project for the year and look forward to racing next year's build at the Greenpower IET Formula 24.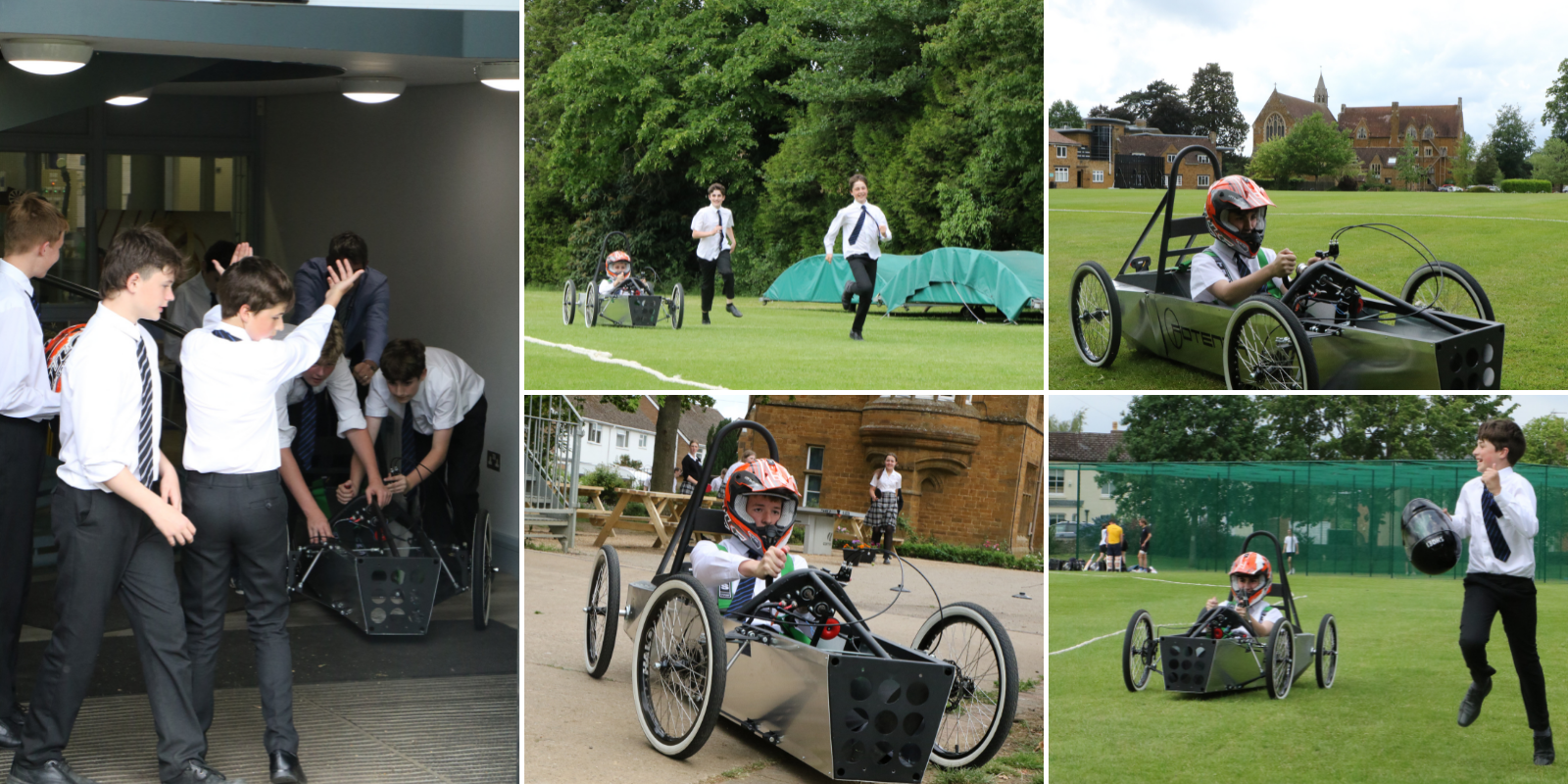 2019's Broader Curriculum programme saw the addition of the Greenpower Electric Car Project for Exham pupils thanks to sponsorship by Potenza Technology.'The Greenpower activity is one of the most popular options in the Broader Curriculum programme and many try and return term after term.'
Design and Technology teacher, Mr Richard Broady-Bennett said:"The Green Power project was started in my first year at the school. I could see the potential the project had, and I was particularly keen to introduce it into the Lower School to encourage students to consider engineering, STEM and technology as an option at the end of Third Form and potentially a future career."
Our youngest pupils were given the opportunity to construct a GreenPower electric car, developing an interest in engineering and aerodynamics' whilst exposing them to a wide range of equipment and resources in the Raymond Technology Centre with Mr Hollinworth and Mr Broady-Bennett. The project has seem them produce graphics, design and make the bodywork and maintain the car, with the final aim of driving it in the Greenpower IET Formula 24. Unfortunately, due to the disruption to academic life over the last two school years, Bloxham has yet to compete in the Greenpower IET Formula 24 event but is something we are eagerly excited to participate in next year.
One of the first tasks the students have to complete is to make a small bracket. This task familiarises the pupils with several key tools, machinery and building techniques that they will use throughout the project, including the use of self tapping screws, metal bending and the importance of an engineers square.
On Monday the Greenpower team headed to Strawberry Terrace to test drive their electric car. This was a proud and very exciting moment for the entire team with Mr Broady-Bennett commenting'"It was very exciting to get the car out and running last week with the students. They were all eager to give it a go. We have many plans in the future to try out different materials and techniques to make the car lighter and faster."
"A huge thank you needs to go Mr Faithfull who is our sponsor and Nic Hollingworth, our technology technician, who has tirelessly researched and worked on the finer detail of the car behind the scenes. We look forward to taking part in a race next year."'– Mr Broady-Bennett.
'For a full album of photos from Monday, visit our Flickr page.'